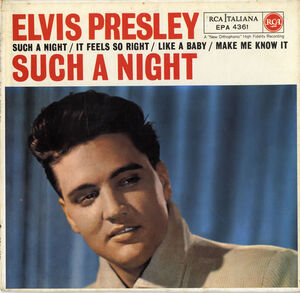 "Such a Night" is a popular song from 1953, written by Lincoln Chase and first recorded by The Drifters.
The Drifters' original version, featuring Clyde McPhatter, was recorded in November 1953 and released in January 1954. Despite being banned by some radio stations as too "racy", it reached number 2 on the American R&B chart in 1954.
The song also became a hit single for Johnnie Ray, whose cover version reached #1 in the UK Singles Chart in 1954.Ray's version was produced by Mitch Miller, but was not a big U.S. hit for Ray (it entered the US Cash Box chart on 27th March 1954, peaking at No.18 two weeks later on 10th April).
Elvis Presley also recorded the song and released it on his 1960 album Elvis Is Back. Presley's version made number 13 in the UK and number 16 in the U.S. when released as a single in 1964. In the Presley version, the first three verses, when he says the words of the title song, he speaks. However, in the last two verses, Presley sings the title words.
The Four Lovers released their version of the song in 1956. The Four Lovers later became known as The Four Seasons.
There is also a version by the Belgian singer Ricky Gorden.
Community content is available under
CC-BY-SA
unless otherwise noted.