Amy MacDonald
(born 25 August 1987)
is a Scottish recording artist. Macdonald rose to fame in 2007 with her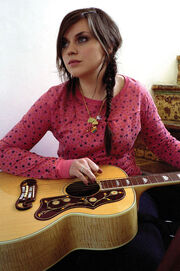 debut album,This is the Life
(2007) and its fourth single, "This is the Life
". The single charted at number one in six different countries worldwide, and charted inside the top ten in another eleven countries worldwide.
The success of the single achieved Macdonald success in the American music market, where she was a guest on shows such as The Ellen Degeneres Show and The Late Late Show with Craig Ferguson in 2008, where she performed two singles from the album, leading her album, This Is the Life to reach ninety-two on theBillboard 200. In the European Union, This Is the Life reached number one in six European countries, including the United Kingdom, Denmark and the main European album charts. This is the Life has sold three million copies worldwide.
"Don't Tell Me It's Over" was released in March 2010 as the lead off single from MacDonald's second studio album, A Curious Thing which was released on March 8, 2010. Five singles have since been released from A Curious Thing. Macdonald's third album, Life in a Beautiful Life, was released on 11 June 2012.
Macdonald sent a demo CD in response to an advertisement placed in the NME by a new production company set up by songwriters Pete Wilkinson and Sarah Erasmus.
In an interview with HitQuarters, Wilkinson said he was "literally aghast" at her songwriting abilities when first he heard Macdonald play the songs "This is the Life" and "Mr Rock n Roll".
Wilkinson then spent around eight or nine months recording demos with Amy at his home studio with a view to securing a record deal for his new client. In 2007, Macdonald signed a contract with Vertigo.
Macdonald won Best Newcomer at the 2008 Tartan Clef Awards and Best Newcomer at the 2008 Silver Clef Awards.In December 2008 she was voted "Scottish person of the year" by The Daily Record
Macdonald performed, along with U2, at the German 2009 Echo Awards, where she won an award in the category "Best International Newcomer". She also won Best International Album and Best International Song at the 2009 Swiss Music Awards.
In 2010 Macdonald won "best album" for A Curious Thing, at the annual Tartan Clef awards on 20 November in Glasgow. Also, Macdonald won "best international album Rock/Pop" with A Curious Thing at the Swiss music awards in March 2011. Furthermore, Macdonald won "best international Rock/Pop Female" at the Echo Awards, beating celebrities such as: Adele, P!nk, Rihanna and Katy Perry
Links to her music are as follows:
This is the Life-
Love Love-
Community content is available under
CC-BY-SA
unless otherwise noted.