Azealia Amanda Banks (born May 31, 1991) is an American rapper, singer and lyricist from Harlem, New York signed to Interscope/Polydor, and formerly known under the pseudonym Miss Bank$.
Banks was trained in the performing arts at the LaGuardia High School of Performing Arts
in Manhattan. At the age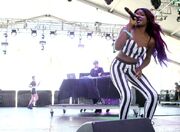 of sixteen, Banks starred in a production of the comedy-noir musical City of Angels. She never finished high school, instead choosing to follow her dream of becoming a recording artist.
Under the moniker 'Miss Bank$', she released her debut recording "Gimme A Chance" onto the internet in February 2009. Later that year, Banks signed to record label XL Records and began working with Producer Richard Russell; leaving the label later that year due to conflicting ideas. Banks' first extended play, 1991, was released in the United Kingdom on May 28 and in the United States the following day. The four-track play, of which "212" featured, was not eligible for the UK Albums Chart, but the title track charted at number seventy nine on the UK Singles Chart and number one hundred and thirty-three on the Billboard 200. Having originally announced in January 2012 that filming for the "Liquorice" music video had begun in Paris, France with Lady Gaga stylist Nicola Formichetti.
Links to her music:
Discography:
Singles
1. 212 (feat. Lazy Jay) (2011) 2. Esta Noche (2012) [Unconfirmed] 3. TBA (2013)
EP's
1. 1991 (2012)
Mixtapes
1. Fantasea (2012)
Albums
1. Broke With Expensive Tastes (2013)
Promotional Singles
1. Liquorice 2. 1991 3. Van Vogue 4. Luxury 5. Atlantis 6. Esta Noche (feat. Munchi)