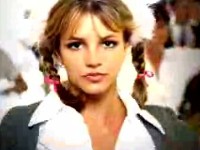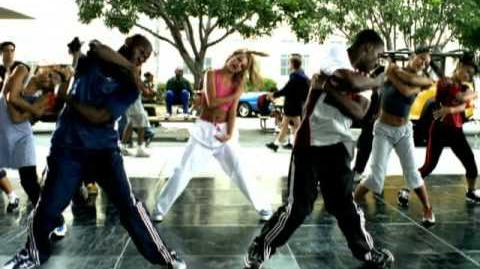 ...Baby One More Time is Brtiney Spears' first music video which propelled her into superstardom.
The video was filmed on August 7 and August 8, 1998, in Los Angeles, California, at Venice High School, the same school used to film the movie Grease. Spears' assistant, Felicia Culotta, played the role of Spears's teacher.
The video begins with Spears appearing bored in class at a Catholic high school. When the bell rings, Spears runs out into the hall and begins a choreographed dance. After this, Spears is outside, now adorned in an athletic outfit. Along with a couple of other students, she performs a number of gymnastic moves before heading back inside. She is then sitting on the bleachers in the gymnasium watching a basketball game. Her love interest is revealed sitting close to her, played by her real-life cousin Chad. After this short segment, Spears begins her final dance routine and the video ends shortly afterwards, revealing that the whole thing had actually just been Spears's daydream.