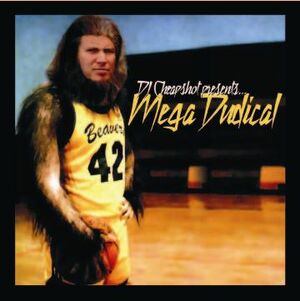 Artist: DJ Cheapshot
Date Released: 2007
Label: SpyTech Records
Produced By: DJ Cheapshot
Tracklisting:
Released around 2004 on the SpyTech Records website, this wasn't really heard in it's entirety mainly from errors on the site going to wrong links and the wrong files uploaded. Mixed by DJ Cheapshot, it combines old school rock and classic hits with some of the favorites from the Megadef album. One of the cleverest of which is Pay Me mixed with My Sharona. Little is known about this release. It was later revealed that Mega Dudical was originally going to be a complete Remix album of Megadef, and that Call it a Movement and The Real were not even on the mixtape. After S.O.B. signed their deal with Machine Shop Recordings, and went to work on Fort Minor's The Rising Tied album, Mega Dudical was put on the back-burner indefinitely. Then, after they had completed The Rising Tied, and had begun work on their own album (Rocket Surgery), Cheapshot went back to work on Mega Dudical. Using only two of the original remixes, he re-did another one from scratch, and then made 17 more non-S.O.B. "Crash-Ups", which evolved into the 20-track mixtape crash-up album, Mega Dudical, which Cheapshot premiered online at SOBCentral.
Further reading
Edit
Community content is available under
CC-BY-SA
unless otherwise noted.