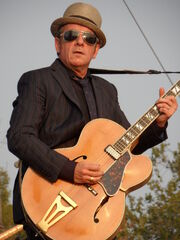 Born: 1954
Headquarters: London, UK
Website Link(s): elvis-costello.com
Elvis Costello was one of the acts at the forefront of the New Wave movement, though unlike many New Wave artists, he's been able to keep his fame and popularity going by experimenting with styles, even writing an opera (though not a very well received one) and a traditional Jazz album (much better received). He's also had his share of controversy, with his battles with alcoholism and his unsavoury comments (immediately apologized for) about Ray Charles among others. He's got a reputation as a bit of a self-centered jerk, though in songs like "Lipstick Vogue" and many cuts on Imperial Bedroom, if you take the lyrics at face value, it makes one wonder that perhaps no matter how much you hate Elvis Costello as a person and how much Elvis Costello hates someone else, he might hate Elvis Costello even more. Many people consider his work with Attractions as his best work, though his other albums are often popular as well—particularly his collaboration with Burt Bacharach, Painted From Memory.
Community content is available under
CC-BY-SA
unless otherwise noted.