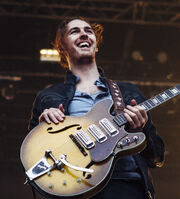 Andrew John Hozier-Byrne (born 17 March 1990), known professionally as Hozier (/ˈhoʊziər/ HOH-zee-ər), is an Irish singer-songwriter and musician. He had his international breakthrough after releasing his debut single "Take Me to Church", which has been certified multi-platinum in several countries, including the US, the UK, and Canada. Hozier's music primarily draws from folk, soul and blues genres, often using religious, allegorical, and literary themes in his work.
Raised in County Wicklow, Hozier released his debut EP in 2013, featuring the single "Take Me to Church", which became a rock radio hit in the United States and peaked at number two on the Billboard Hot 100. His chart-topping debut studio album, released in 2014, was released to critical acclaim. It has been certified 6× platinum in Ireland and multi-platinum in several countries.
In September 2018, Hozier released an EP, titled Nina Cried Power, and featured the title track as a single, reaching number one on the Billboard Adult Alternative Songs airplay chart. He released his second album, Wasteland, Baby!, in March 2019, which debuted atop the US Billboard 200.