We're Getting Mutants in the MCU - The Loop
Play Sound
Khary Thomas Durgans, better known by his first name Khary, is an American rapper, singer and songwriter from Providence, Rhode Island.
Early Life
[
]
Khary Durgans was born on September 28, 1991 in Kalamazoo, Michigan, but moved to Providence, Rhode Island with his mother at age 3.
"I lived in all the areas — the hood, the nice areas. Rhode Island is a weird little place, man. A lot of our culture is from New York and Boston because we're sandwiched between the two. Growing up there was dope. I always felt like an outsider because I was from the Midwest. I'd spend all my summers in Cleveland. That's where my grandma used to live. She used to live on the same street as Bone Thugs-N-Harmony"
His first ever experience with rapping was when he became a hype man for his older brother when he was 16, eventually scaling down to his own raps. During high school, he would have rap battles with his friends and peers, garnering the nickname "Lupe" [Fiasco]. "This is something I could do. Who's this weird guy? You can rap about this kinda stuff?" He was rapping about anime. Nowadays, everybody does it and it's cool, but back then, if you were rapping about anime, you were not cool, dude.", Citing Lupe Fiasco as an influence on his music direction.
During this time, Khary was once working in a movie theater mixed with a CD Store, where he would spend his time researching and studying older rappers.
Career
[
]
Around 2008-2010, he would release a series of small projects, although have been lost to history. He also released his first mixtape The Old Soul in 2010.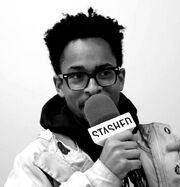 In 2011, he released his first extended play, The Quest For Equilibrium. Then around 2014, he released his debut studio album, Love and Anchors. Love and Anchors is described to be Khary's journey from Providence to New York when he moved in 2012 following him dropping out of college, citing his family as "Love" and the strained relationships with them as the "Anchors". Khary said the album was originally never meant to be released and was made for therapeutic purposes. Later in 2014, he released his second extended play Swim Team, which showcases Khary's more bolder and confident side.
Prior to 2016, Khary had gone under two names: K.I.T (short for "Kid In Training"), and his real name, Khary Durgans, although he would later drop those names because it didn't suit his vision with his music. Swim Team would be the last time that Khary would release under his real name.
At some point in 2015, he begun interning at a news company called TheFADER, which was noted by Khary to be an unpaid position. Struggling to find a clear path with his music, he would make his second mixtape called Intern Aquarium. The mixtape goes from the perspective of an intern (alluding to Khary) who has big dreams. Khary describes the mixtape to be his breakthrough, giving him the final push to pursue his music career full time, and shortly left the TheFADER after the release of the project. The mixtape was also met with critical praise as it goes over topics and scenarios that millennials would often find themselves to be in.
In 2017, Khary released a collaborative EP with Columbus producer Lege Kale titled, Tidal Graves.
In 2018, Khary released his conceptual project/second studio album Captain, which talks about the more darker side of Khary's time in New York. "It was kind of lit ,but kind of dark — like, Wow, this is not me. That's why I created the persona of Captain — this false bravado. I was just living a different life." It seemed that moving to New York took a more heavy toll on Khary, as the album, stated by Khary himself, would've been "more emotional and depressing" if his mindset was in the right space.
Late 2018 he would then release the EP, uhhh. The songs on uhhh were mixed into this compilation, as they didn't fit on any of his other projects.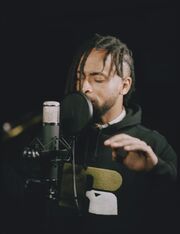 In 2019, Khary would experiment with his sound and direction on his single Peppermint, and Fuck Simon, allowing him to plan his next project. Uhhh served as a prelude to a trilogy of extended plays, each named after Khary's signature tag (Uhhh, This Is Weird), ending it with the album, This Is Weird. Each extended play would've apparently explored different themes and sounds. Only one of the extended plays would release, This, which released on June 27, 2019.
Khary would release the song "2", which helped with finalizing his music direction. The other planned extended plays were cancelled and the album was put into production between January and May of 2020, releasing on June 19, 2020. The reason for the cancellation of the other two extended plays is due to the lack of ties with Khary's motives, and telling no story.
In 2021, Khary released a deluxe edition of This Is Weird, and a 2-track extended play titled Rap's Boring. The EP is a project made in commemoration to a YouTube video Khary uploaded, titled "Endogenous: BORING", where Khary talks about how he's fallen out of preference to Rap/Hip Hop and wants to pursue new music genres and ideas. This has received some criticism of some fans, though many members of his community approve and encourage the new direction.
Khary is set to release an album later in 2022, releasing his first single "Fembrook Dr." on March 25, 2022.
Discography
[
]
Studio albums
[
]
Mixtapes
[
]
Extended plays
[
]