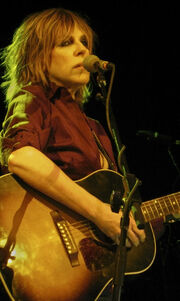 Lucinda Gayle Williams (born January 26, 1953) is an American rock, folk and country music singer, songwriter and musician.
She recorded her first albums in 1978 and 1980 in a traditional country and blues style and received very little attention from radio, the media, or the public. In 1988, she released her self-titled album, Lucinda Williams. This release featured "Passionate Kisses", a song later recorded by Mary Chapin Carpenter, which garnered Williams her first Grammy Award for Best Country Song in 1994.
Known for working slowly, Williams recorded and released only one other album in the next several years, Sweet Old World, in 1992. Her commercial breakthrough came in 1998 with Car Wheels on a Gravel Road, an album presenting a broader scope of songs that fused rock, blues, country and Americana into a distinctive style that remained consistent and commercial in sound. Car Wheels on a Gravel Road, which includes the Grammy nominated track "Can't Let Go", became Williams' greatest commercial success to date. The album was certified Gold by the RIAA and earned Williams a Grammy Award for Best Contemporary Folk Album, while being universally acclaimed by critics. Williams released the critically acclaimed Essence three years later, and the album also became a commercial success. One of the album's tracks, "Get Right with God", earned Williams the Grammy Award for Best Female Rock Vocal Performance in 2002.
Williams has released a string of albums since that have earned her more critical acclaim and commercial success. She has won three Grammy Awards, from 15 nominations, and received two Americana Awards, from 12 nominations. Additionally, Williams ranked No. 97 on VH1's 100 Greatest Women in Rock & Roll in 1998, she was named "America's best songwriter" by Time magazine in 2002, and was chosen by Rolling Stone as the 79th greatest songwriter of all time.
Early life
[
]
Williams was born in Lake Charles, Louisiana, the daughter of poet and literature professor Miller Williams and an amateur pianist, Lucille Fern Day. Her parents divorced in the mid-1960s. Williams's father gained custody of her and her younger brother, Robert Miller, and sister, Karyn Elizabeth. Like her father, she has spina bifida. Her father worked as a visiting professor in Mexico and different parts of the United States, including Baton Rouge; New Orleans; Jackson, Mississippi; and Utah before settling at the University of Arkansas in Fayetteville. Williams never graduated from high school but was accepted into the University of Arkansas. Williams started writing when she was 6 years old. She showed an affinity for music at an early age, and was playing guitar at 12. Williams's first live performance was in Mexico City at 17, as part of a duo with her friend, a banjo player named Clark Jones.