Marian Renta is an American singer-songwriter, record producer, and pianist.[2] Born in Brooklyn, New York, Renta grew up in Newport News, Virginia, where she was formally educated and trained in the performing arts.[2] As a singer, songwriter, and pianist, she excelled in her studies in music theory, stage performance, and music composition. She began producing music in high school, and made a name for herself when she began producing demos and writing songs for other students seeking music careers.[2]
She rose to popularity with the release of her debut studio album One of a Kind in 2011.[3] After a temporary departure from music in 2014, Renta began writing and recording again in 2020, and restarted her music career with the digital release of her EP, Headfirst in January of 2021.[4] She is known for her stripped down music production style and expressive vocal performances. Her music often conveys emotional themes and incorporates a blend of alternative pop, R&B, soul, and rock.[2]
Life and career
[
]
Early life
[
]
Marian Renta was born on August 8, 1986, in Brooklyn, New York.[5] She is the third of four children born to Jacqueline Renta, a waitress and hostess of Puerto Rican descent, and the only child born to Ludwig Rodriguez, a disc jockey also of Puerto Rican descent. Jacqueline's father, Jaime Renta, was a Puerto Rican songwriter and musician during the 1950s and 1960s. In 1987, Renta's parents separated, citing drug abuse and irreconcilable differences as being contributing factors. Renta remained in her father's care, and in 1994, moved to Niceville, Florida to stay with her paternal grandmother for a short time. That same year, Renta and her father moved to Newport News, Virginia to live with her father's girlfriend and her three children. Renta has stated that growing up in Virginia, she had access to better educational opportunities and tools for her development as a musician.
1997–2004: Formal music education and training
[
]
In 1997, Renta enrolled at the historical Booker T. Washington Middle School in the music magnet program. Renta obtained specialized training and education in music theory, stage performance, and musicianship fundamentals. She played in the school's band and served on the drumline. She was also member of the school choir, and began teaching herself to play piano during choir rehearsals.
In 1999, Renta continued her musical studies when she enrolled at the prominent Woodside High School of the Performing Arts. Renta would receive rigorous, in-depth education in composing music, musical notation, sight-reading manuscript, chord structuring, and classical piano technique. In her sophomore year, Renta began exploring the music lab of her school, and quickly got the knack of music production and sound mixing. During this time, Renta also mixed records at home with a DJ setup she owned, and she drew a parallel between mixing records on turntables and mixing audio with a multitrack sequencer in a DAW. In 2003, Renta left her father's home to live with her mother in Brooklyn, New York. She completed her senior year at Curtis High School in Staten Island, New York, and graduated on June 24, 2004. After high school, Renta continued her formal education at John Jay College of Criminal Justice as a Forensic Psychology major and Performing Arts minor.
2005–2013: Career beginnings and One of a Kind

[

]
In 2005, after two semesters, Renta changed her major and transferred to College of Staten Island as a Business major and Accounting minor. Renta obtained her B.S. in Business in the Spring of 2008. Renta has stated that the Great Recession had a detrimental impact on her ability to exercise her Business degree. While in college, Renta established a home recording studio and began uploading cover songs and original songs to social media such as Myspace and the newly founded Youtube platform. She experimented with various genres such as Reggae, Blues, and Electronica.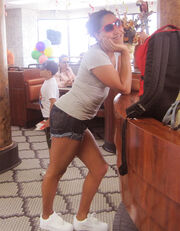 In 2010, Renta began working on new material for a studio album. She sought to create an R&B-pop concept album with elements of Soul and Dance. Recording began in the fall of 2010, and the collection of songs was mastered and completed in Renta's home studio in April of 2011. Titled "One of a Kind", the album was promoted with the digital release of two singles—"Leave You", released on May 22, 2011, and the second single, "Eye for an Eye", released on August 11, 2011. One of a Kind was released digitally on November 15, 2011 under the pen record label, Hail Stunna.
2014–2019: Extended hiatus
[
]
Three years after the release of One of a Kind, Renta decided to step away from music temporarily, citing burnout and writer's block as major factors. She used the time away from her music to enhance her personal life through dating and strengthening her familial relationships. In 2013, Renta also utilized this time to expand on her Business degree and enrolled in online college courses.
2020–present: Self-discovery and return to music
[
]
In the fall of 2020, Renta began composing new songs and uploading them to Soundcloud. The lyrical content of her new material leaned heavily on themes of unrequited love and languishment. She was inspired by emotions she experienced from a situationship she walked away from at the time. Renta departed from the at-the-surface R&B style she was accustomed to and opted to incorporate a slightly darker, deeper, melancholy mood to her songs. She abandoned the standard concept of full band compositions and adopted a stripped-down sound consisting mainly of piano, bass, strings, and guitar, foregoing drums or percussion. This bare style of production along with her emotive and unique vocal tone would soon become Renta's hallmark.
During the fall of 2020, Renta began piecing together songs she had written and uploaded to Soundcloud and newly written songs, and building a collection from which to choose songs for an EP. After choosing the songs and remastering them, Renta finally released her first studio effort since her hiatus, Headfirst, on January 13, 2021.[4] Entirely written and produced by Renta, Headfirst served as a career jumpstart and redefined her musical persona. Capitalizing on the album's positive reception, she continued working in the studio and soon followed up with her second EP, Great Deep, on July 5, 2021.[6] Great Deep spawned the single, "May (Alternate Mix)", an alternate version of "May". On the heels of the popularity of both EPs, Renta began releasing a string of music videos for "Headfirst", "Linger", "May", and "Great Deep".[7]
On December 30, 2021, Renta announced she was writing and producing material for a new EP slated to be released in February of 2022.[8] Regarding the new EP, she stated "It's gonna have a slightly different sound and will be a little a more upbeat; this EP will be a little more experimental".[8] On January 10, 2022, Renta announced via Twitter the release date of the EP as February 22, 2022.[9]
Discography
[
]
Studio albums
[
]
Extended plays
[
]
Singles
[
]
References
[
]