McCartney is the debut solo album by Paul McCartney. Apart from Linda McCartney's vocal contributions, McCartney performed (and recorded) the entire album solo. Featuring loosely arranged (and in some cases, unfinished) home recordings, McCartney further explored the "back-to-basics" style which had been intended for The Beatles' Let It Be. The album was reissued on 13 June 2011 as part of the Paul McCartney Archive Collection.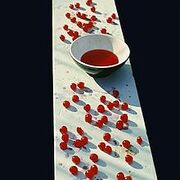 Track listing
[
]
Original track listing

[

]
Side One
The Lovely Linda
That Would Be Something
Valentine Day
Every Night
Hot As Sun/Glasses
Junk
Man We Was Lonely
Side Two
Oo You
Momma Miss America
Teddy Boy
Singalong Junk
Maybe I'm Amazed
Kreen-Akrore
2011 Remaster

[

]
On 13 June 2011, McCartney and McCartney II were reissued at the same time, in the UK (they were released on 14 June in the US), by Hear Music/Concord Music Group as part of The Paul McCartney Archive Collection.
It was released in multiple formats:
Standard Edition 1-CD; the original 13-track album
Special Edition 2-CD; the original 13-track album on the first disc, plus 7 bonus tracks on a second disc
Deluxe Edition 2-CD/1-DVD; the original 13-track album, the bonus tracks disc, a 128-page hardcover book with never-before-published photos and all-new liner notes
Remastered vinyl 2-LP version containing of the Special Edition and a download link to the material
Disc 1: The Original Album
The Lovely Linda
That Would Be Something
Valentine Day
Every Night
Hot As Sun/Glasses
Junk
Man We Was Lonely
Oo You
Momma Miss America
Teddy Boy
Singalong Junk
Maybe I'm Amazed
Kreen-Akrore
Disc 2: Bonus Tracks
All tracks are previously unreleased
Suicide (Outtake)
Maybe I'm Amazed (From One Hand Clapping)
Every Night (Live At Glasgow, 17th December 1979)
Hot As Sun (Live At Glasgow, 17th December 1979)
Maybe I'm Amazed (Live At Glasgow, 17th December 1979)
Don't Cry Baby (Instrumental Version Of Oo You
Women Kind (Demo)
DVD: Bonus Film
The Album Story
The Beach
Maybe I'm Amazed (Music Video)
Suicide (From One Hand Clapping)
Every Night (Live At Concert For The People Of Kampuchea, 29th December 1979)
Hot As Sun (Live At Concert For The People Of Kampuchea, 29th December 1979)
Junk (MTV Unplugged Performance, 25th January 1991)
That Would Be Something (MTV Unplugged Performance, 25th January 1991)