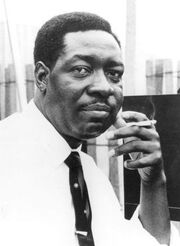 Otis Spann (March 21, 1924 or 1930 – April 24, 1970) was an American blues musician, whom many consider to be the leading postwar Chicago blues pianist.
Early life
[
]
Sources differ over Spann's early years. Some state that he was born in Jackson, Mississippi, in 1930, but the researchers Bob Eagle and Eric LeBlanc concluded, on the basis of census records and other official information, that he was born in 1924 in Belzoni, Mississippi.
Spann's father was, according to some sources, a pianist called Friday Ford. His mother, Josephine Erby, was a guitarist who had worked with Memphis Minnie and Bessie Smith, and his stepfather, Frank Houston Spann, was a preacher and musician. One of five children, Spann began playing the piano at the age of seven, with some instruction from Friday Ford, Frank Spann, and Little Brother Montgomery.