Phoebe Lucille Bridgers (born August 17, 1994) is an American indie musician from Los Angeles, California. Best known for her work as a solo singer-songwriter, she is also known for her musical collaborations: Boygenius (with Julien Baker and Lucy Dacus), and Better Oblivion Community Center (with Conor Oberst). Bridgers has received critical acclaim for her music, which has been described as "exquisitely raw and revealing."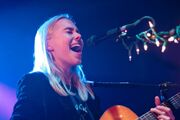 Early Life
[
]
As a child, Bridgers made extra money playing music at the Pasadena Farmers Market. Bridgers is a graduate of Los Angeles County High School for the Arts, having studied vocal jazz. She spent some of her childhood in Ukiah, California.
Career
[
]
Early in her career, Bridgers played guitar and sang lead vocals in Einstein's Dirty Secret and played bass in Sloppy Jane. Bridgers' career came to light when she met American singer-songwriter Ryan Adams through mutual collaborator Harrison Whitford. Adams produced her major label debut 7", Killer, and released it on his record label, PAX AM. During this time the two began a romantic relationship. In early 2016, Bridgers supported Julien Baker on her 2016 East Coast tour.