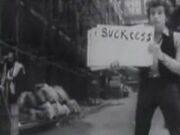 Subterrean Homesick Blues is one of the first "modern" promotional film clips, the forerunner of the music video. The original clip was actually the opening segment of D. A. Pennebaker's film, Don't Look Back, a documentary on Bob Dylan's first tour of England in 1965. In the film, Dylan, who came up with the idea, holds up cue cards for the audience, with selected words and phrases from the lyrics. The cue cards were written by Dylan himself, Donovan, Allen Ginsberg and Bob Neuwirth. While staring at the camera, he flips the cards as the song plays. There are intentional misspellings and puns throughout the clip, for instance when the song's lyrics say "eleven dollar bills" the poster says "20 dollars". The clip was shot in in an alley behind the Savoy Hotel in London where poet Ginsberg and Neuwirth make a cameo in the background. For use as a trailer, the following text was superimposed at the end of the clip while Dylan and Ginsberg are exiting the frame: "Surfacing Here Soon | Bob Dylan in | Dont Look Now by D. A. Pennebaker".
In addition to the Savoy Hotel clip, two alternate promotional films were shot: one in a park where Dylan, Neuwirth and Ginsberg are joined by a fourth man, and another shot on the roof of an unknown building (possibly the Savoy Hotel). A montage of the clips can be seen in the documentary No Direction Home.
Community content is available under
CC-BY-SA
unless otherwise noted.