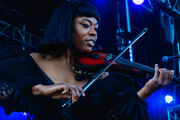 Brittney Denise Parks, better known by her stage name Sudan Archives, is an American violinist and singer based in Los Angeles, California. She is signed to Stones Throw Records.
Early life
[
]
Sudan Archives was born Brittney Denise Parks, and she grew up in Cincinnati, Ohio. She began playing violin in the 4th grade. When she was a teenager, she was kicked out of her house, which prompted her to move to Los Angeles. She studied ethnomusicology at Pasadena City College.
Career
[
]
Sudan Archives' debut EP, Sudan Archives, was released in 2017, and she followed it with the Sink EP in 2018. Her debut studio album, Athena, came out in 2019.
Musical style and influences
[
]
Sudan Archives has taken inspiration from a variety of African musicians, including Cameroonian electronic musician Francis Bebey and Sudanese violinist Asim Gorashi. She is also inspired by Irish music. When performing, Sudan Archives sometimes uses electronic effects pedals and electronic beats, and has also performed in a string quartet.