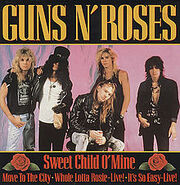 Sweet Child O' Mine was the third single released by hard rock/heavy metal band Guns N' Roses. As of 2012, it is their only single to reach number-one in the U.S. It was the most successful single off of their debut album Appetite For Destruction. This track has been covered by a number of artists, such as Anastacia, The Sunny Bottom Boys, Gregorian and Bob Wayne.
Charts
[
]
Country
Peak
position
Australia
11[1]
Belgium (Flanders)
36[1]
Netherlands
20[1]
New Zealand
5[1]
Spain
30[1]
20px Schweden
27[1]
Switzerland
15[1]
United Kingdom
6[2]
United States

1

[3]
Sheryl Crow cover (1999)
[
]
In September 1999, Sheryl Crow performed a cover version for the soundtrack to Big Daddy. The single were released in September 1999 and 8 October 1999[4].
Charts
Peak
position
Netherlands
95[5]
United Kingdom
30[2]
Taken by Trees cover (2009)
[
]
Taken by Trees, the solo project of swedish vocalist Victoria Bergman, recorded an indie pop cover that charted in United Kingdom only on #23 [2]
Milk Inc. cover (2013)
[
]
the Belgian dance duo Milk Inc. released a progressive / bigroom house cover including the original guitar riffs. The digital track was released on 3 June 2013, the physical copy 17 June 2013. This song only charted in Belgium at the Vlaamse Ultrapop Top 50 and peaked at #5[6]
References and Weblinks
[
]