We're Getting Mutants in the MCU - The Loop
Play Sound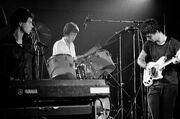 Founded: 1974-1991
Headquarters: New York, NY
Website Link(s): The Name Of This Site Is Talking-Heads.Net Talking Heads were an American rock band formed in 1975 in New York City and active until 1991.[1] The band was composed of David Byrne (lead vocals, guitar), Chris Frantz (drums), Tina Weymouth (bass), and Jerry Harrison (keyboards, guitar). Described by the critic Stephen Thomas Erlewine as "one of the most critically acclaimed bands of the '80s,"[2] the group helped to pioneer new wave music by integrating elements of punk, art rock, funk, and world music with avant-garde sensibilities and an anxious, clean-cut image.[2]
Former art school students who became involved in the 1970s New York punk scene, Talking Heads released their 1977 debut album, Talking Heads: 77, to positive reviews.[3] They collaborated with producer Brian Eno on a trio of experimental and critically acclaimed releases: More Songs About Buildings and Food (1978), Fear of Music (1979), and Remain in Light (1980).[2] After a hiatus, Talking Heads hit their commercial peak in 1983 with the U.S. Top 10 hit "Burning Down the House" from the album Speaking in Tongues and released the concert film Stop Making Sense, directed by Jonathan Demme.[2] They released several more albums, including their best-selling LP Little Creatures (1985), before disbanding in 1991. Without Byrne, the other band members performed under the name Shrunken Heads, and released an album, No Talking, Just Head, as the Heads in 1996.
In 2002, Talking Heads were inducted into the Rock and Roll Hall of Fame. Four of their albums appear in Rolling Stone '​s list of the 500 Greatest Albums of All Time, and three of their songs ("Psycho Killer", "Life During Wartime", and "Once in a Lifetime") were included among the Rock and Roll Hall of Fame's 500 Songs That Shaped Rock and Roll.[4] Talking Heads were also number 64 on VH1's list of the "100 Greatest Artists of All Time".[5] In the 2011 update of Rolling Stone '​s "100 Greatest Artists of All Time", they were ranked number 100.[6]
Label(s)
[
]
Genre(s)
[
]
RIYL
[
]
Band Members
[
]
Includes Members of
[
]
Band Biography
[
]
The band formed as a trio (minus Jerry Harrison) in 1974, and got a following. They were heavily involved in the mid-1970s CBGBs scene, and originally classified as a Punk band, despite not having much in common with other punk bands of the day, like The Ramones (who they toured with). When New Wave came along, they tended to fit into that particular label a bit better, but still not exact. By that time, they'd finished their experimental stage with Brian Eno at the production helm, and they were experimenting with funk and World Music influences. After making a film, True Stories, directed and written by David Byrne, they put out one other record, and then broke up; David Byrne informed the other members by fax. As a note of trivia, Tina Weymouth and Chris Frantz's side project, Tom Tom Club had better chart success than Talking Heads ever did.
Discography
[
]
Albums
[
]
Singles
[
]
Appears On
[
]
Compilations
[
]
Soundtracks
[
]
Mix CDs
[
]
Radio Shows
[
]
Further Reading
[
]