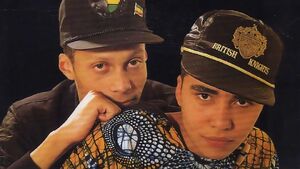 Technotronic was Belgian New Beat/Eurodance group formed 1989 by Jo Bogaert.
Content
[
]
History[Edit]

[

]
Technotronic was founded by Jo Bogaert end 80 's. Baker was one of the driving forces during the heyday of the New Beat. Also when the New Beat-rage flew over he was not quiet and he kept tinkering with a distinctive sound.
The debut of Technotronic Pump Up the Jamwas. Felly Kilingistood on stage, but in the studio was performed by the Zairean Manuela Kamosi (Ya Kid K). Manuela Kamosi is the older sister of Karoline Kamosi, which later became known under the name Leki.
The single did very well in almost all countries of the world, and was no. 1 in most of those countries. The song remained in the US stuck at no. 2 so Soeur Sourire Dominique of there remained the biggest hit ofBelgian soil. In total, from "Pump up the jam" sold more than 3.5 million copies worldwide.
After a few more singles were released: Get Up! (Before The Night Is Over) and This beat is Technotronic. This missed the huge sales of the debut, because they are the surprise effect of it were missing. Pump up the jam still has the status of nineties classic, although the number is already released in the mid-1980s.
For the second album, Body to Body, did Baker call on Reggie, one of the two cheerful ladies who were known with Indeep (known from Last night a dj saved my life). This album generated sales not half as much as the first.
Three years after their first success, the single Move this from the debut album (also with Kamosi) popular thanks to its use in an advertisement of Revlon. It rose to number 6 of the Billboard-charts in the United States.
A total of more than 14 million albums sold Technotronic all over the world.
They were in the 90 's an opening act for Madonna's Blond Ambition Tour.
Discography[Edit]

[

]
Albums[Edit]

[

]
1989 Pump Up The Jam-The Album
1990 Trip On This-The Remixes
1991 Body To Body
1993 Greatest Hits
1995 Recall
Singles[Edit]

[

]
Single (s) with any charts in the

the Dutch Top 40

Date of

appear

Date of

entry

Highest

position

Number Of

weeks

Comments
Pump Up the Jam
1989
9-9-1989
2
11
Get up (before the night is over)
1990
3-2-1990
2
8
This beat is technotronic
1990
7-4-1990
7
6
Megamix
1990
18-8-1990
26
5
Move that body
1991
27-7-1991
32
3