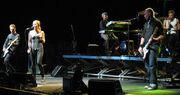 Founded: 1992
Headquarters: Jönköping, Sweden
Website Link(s): Official Site
The Cardigans are a Swedish rock band formed in Jönköping, Sweden, in 1992[1] by guitarist Peter Svensson, bassist Magnus Sveningsson, drummer Bengt Lagerberg, keyboardist Lars-Olof Johansson and lead singer Nina Persson. Post-hiatus shows since 2012 have been with Oskar Humlebo on guitar instead of Svensson.[2]
With their debut album Emmerdale (1994) they gained a solid base in their home country and enjoyed some success abroad, especially in Japan. Their second album Life (1995) secured them an international reputation. Their popularity rose when their single "Lovefool", from the album First Band on the Moon (1996), was included in the soundtrack to the 1996 film Romeo + Juliet.[1] Other singles included "Erase/Rewind" and "My Favourite Game" from the album Gran Turismo (1998). After a two-year hiatus, the band returned recording and releasing their fifth album Long Gone Before Daylight (2003), a mellower country-flavoured record. Their last album Super Extra Gravity (2005) displays a continuation of the country influence, infused by pop sensibility and a further maturing of their sound. After a 2006 tour, the band embarked on a five-year break from musical activities before reuniting in 2012 to play several concerts. They have sold over 15 million albums worldwide.
Label(s)
[
]
Genre(s)
[
]
RIYL
[
]
Band Members
[
]
Lars-Olof Johansson

Peter Svensson

Bengt Lagerberg

Nina Persson

Magnus Sveningsson
Includes Members of
[
]
Band Biography
[
]
Many people think of The Cardigans as a bouncy, one-hit wonder for "Lovefool", but much of their work is quite a bit darker than that song (which isn't exactly that light either if you pay attention to the lyrics). Their Gran Turismo album has a much harder edge to it, and garnered some college airplay, but was hindered by MTV's inexplicable ban of the "My Favourite Game" music video (except, of course, when doing specials about music videos they've banned -- then it gets LOADS of airplay, now that the record's about 8 years old). They have had troubles getting later records released in the US, but they are still going strong, and their stuff is pretty easy to find as an import.
Discography
[
]
Albums
[
]
Emmerdale

Life

First Band On The Moon

Gran Turismo

Long Gone Before Daylight

Super Extra Gravity

The Other Side Of The Moon
EPs
[
]
Singles
[
]
Rise & Shine

Black Letter Day

Sick & Tired

Carnival

Hey! Get Out Of My Way

Lovefool

Been It

Your New Cuckoo

My Favourite Game

Erase/Rewind

Hanging Around

Junk Of The Hearts

Burning Down The House

(Tom Jones feat. The Cardigans)

For What It's Worth

You're The Storm

Live And Learn

I Need Some Fine Wine And You, You Need To Be Nicer

Don't Blame Your Daughter (Diamonds)
Appears On
[
]
Compilations
[
]
Soundtracks
[
]
Mix CDs
[
]
Radio Shows
[
]
Further Reading
[
]
↑ 1.0 1.1
Strong, Martin C. (2000). The Great Rock Discography (5th ed.). Edinburgh: Mojo Books. pp. 152–153.

ISBN

 1-84195-017-3.
↑
Simpson, Dave (4 December 2018). The Cardigans review – at their best when playing the lovefool. The Guardian. Retrieved on December 5, 2018.