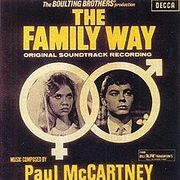 The Family Way is a soundtrack recording composed by Paul McCartney, released in January 1967. The album is the soundtrack to the 1966 film of the same name. The album was released under the name The George Martin Orchestra, The Family Way (Original Motion Picture Soundtrack).
The Family Way won an Ivor Novello Award in 1967 and was remastered and released on CD in 1996 with new musical compositions not on the original 1967 soundtrack album..
Following a 2003 CD reissue in mono, in 2011 a new remastered version of the soundtrack was released by Varese Vintage that featured the original 1967 score by Paul McCartney in the original sequence, remastered from the original first generation stereo master tapes, and included the unreleased stereo mix of "A Theme From The Family Way" as a bonus track, which had appeared originally as the B side of the 1966 UK/US 7-inch single by the Tudor Minstrels.
Track Listing
Edit
1967 Original SoundtrackEdit
1st Movement
2nd Movement
3rd Movement
4th Movement
5th Movement
6th Movement
7th Movement
8th Movement
9th Movement
10th Movement
11th Movement
12th Movement
13th Movement
1996 Re-ReleaseEdit
Variation No. 1
Variation No. 2
Variation No. 3
Variation No. 4
Variation No. 5
Variation No. 6
Variation No. 7
Variation No. 8
Variation No. 9
Hymn To The Child/L 'Hymne A L'Enfant/Reminiscences/Double-March
Theme
Variation I
Variation II
Variation III
Variation IV
Variation V
Capitaine Bonhomme
Le Pirate Maboule
Sol Et Gobelet
Grujot Et Délicat
Monsieur Suprise
Children Of Sarajevo/Les Enfants De Sarajevo
Community content is available under
CC-BY-SA
unless otherwise noted.