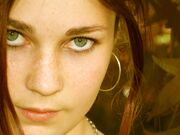 Founded: May 30 2006
Website Link(s): Official Website
Life Among The Dead Enterprises
Band Members
Edit
Band Biography
Edit
Two For Tragedy was the Evanescence cover band of two 14 year olds, Keshna Sana and Alex Campbell.
Keshna and Alex met in late 2003. A short while after that they started to preform songs with each other, the main one being My Immortal by Evanescence. One of the more notable places this was performed was at the National Folk Festival 2005.
Two For Tragedy was officially founded on the afternoon of the May 30, 2006. A few short weeks after that there was a talent concert at their school called the Winterfest. The band announced themselves there by playing the song that had brought them together My Immortal. This time they invited a friend of theirs, and a great cellist, Joel Davy to accompany them.
Two For Tragedy's debut EP Imaginary Light was released on Wednesday, February 7, 2007.
The band was brought to an end on May 9, 2007.
Discography
Edit
none
none
Appears On
Edit
Compilations
Edit
none
Soundtracks
Edit
none
none
Radio Shows
Edit
none
Further Reading
Edit
(links to websites, label biographies, fansites, books, periodicals or any additional information on the artist)
Community content is available under
CC-BY-SA
unless otherwise noted.