The Hit Single "Monsters and Fruits" by Singer & Music Artist Francois Reinke hit the Internet. Follows over 20 HipHop Music Blogs around the world and landed on many Spotify Playlists. The Curators love the new Single Monsters and Fruits. A floating and deep vibe´n sound. A class of it´s own. We call it destiny and arrived in 2021.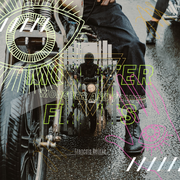 Francois Reinke is born in Germany with a African Father and halt Italian Mother in Neustrelitz. With 5 years he find his first steps in his music career. Michael Jackson was the biggest idol during the next 6 years. With 12 years Francois Reinke performed in front of 500 People on a kids musical festival with 2 background dancers he performed Dj Bobo with Pray. Only 1 Week later he performed in front of his classroom colleagues. With an age of 16 he finds his way in Freestyle and Rap Music. A busted and talented Rapper start a fast growing career with a following big crowd during this time. Attractive lyrics and hard sounds, damn a great sound and lyrical under pressure. With a age of 21 Fox Music Entertainment in Germany offers him a Major Deal in Music as a signed Rapper. He declined the offer and concentrate in his career as a model. During this time music was not a center of his life. What follows was a big break for years in music. But now find the way back and starting the publish career in 2019. The first Album My Heart Beats too starts massive and hard in Spotify. With Grammy Award Winner Producer Dj Pain 1, he climbs the charts and catch up the listener with popping sound and stunning tracks. Singles like Gravity, Loyality keep in the mind of a big crowd of international follower.
In 2021 Monsters and Fruits really Hit the Internet. In 1 Week Francois Reinke Hit Single played and put on 8 Spotify Playlist´s. This is a great opportunity for a Independent Artist to be heard by huge Fanbase. International Blogs wrote stunning reviews about the song Monsters and Fruits in Netherlands Maxxazine Music Blog in Atlanta Heat Music Blog Atlanta´s Celebrity Magazine, Streetwave Media, US Blog Network and many more. You should follow this stunning Artist on Social Media, YouTube, Spotify and iTunes. I can smell a big career here!

Styles
The urban and classic inspiration came from the ground of HipHop. Idols like NAS, 2 Pac and Notorious B.I.G., Wu-Tang Clan bring it to the point and describe the sound of Francois Reinke. Later with the years he become more and more in Pop Music and find this roots and vibes in Music Artist´s like Sam Smith, Shawn Mendes, Lauv and many more. The head-base and society of soul moves became into a monster. Aggressive and muse high-drive and dumb it. This talented basement is a ground for inspired Songwriters and a great publication for Francois Reinke. Are you looking for something special in music? Something new? A waving performance and dope lyrics. Sub Genres are Pop, New Wave, Rock, Indie Music, HipHop and Rap.