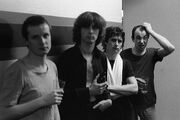 Founded: 1977
Headquarters: Swindon, UK
Website Link(s): Official Site, Chalkhills
Started originally as a punk band, XTC evolved, ending up a band known for their pretty melodies where they had once been known for their hiccupping vocals and angular guitars. The first album of the new direction was English Settlement, although they had been moving in that direction with Black Sea as well. They also recorded as The Dukes of Stratosphear, and Andy Partridge did a dub album of XTC songs as Take Away/The Lure Of Salvage by Mr. Partridge. They went on strike in 1992, when Virgin recalled the single of "Wrapped In Grey", and were finally released from their contract in 1997. They formed a new label called Idea after that.
Community content is available under
CC-BY-SA
unless otherwise noted.