Jurassic World: Dominion Dominates Fandom Wikis - The Loop
Play Sound
Yandhi was the scrapped ninth studio album by American rapper Kanye West. It was scheduled to release between September and October of 2018 before being shelved indefinitely. The album was re-worked into Jesus Is King.
History
[
]
West announced on September 17, 2018 that his ninth album would be released on September 29 that year under the name "Yandhi", and revealed the cover art. Fans speculated this album being the sequel to West's sixth studio album Yeezus, due to the nature of the cover art and the play-on portmanteau of the name (Kanye + Gandhi).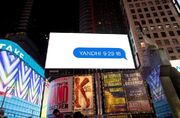 On September 27, West previewed some tracks from the album, featured artists included Ty Dolla $ign, XXXTentacion and 6ix9ine. The first proposed tracklist also included West's single "I Love It", which featured Lil Pump. Artists Lauryn Hill, Nicki Minaj and Teyana Taylor were also rumored to appear on the album.
West was brought on as a guest for Saturday Night Live to coincide with the release of the album. The initial album was accidentally leaked by Universal Music Publishing Group, which revealed eight tracks. Following this event, the album was rescheduled to release on October 1, 2018 by West's ex-wife Kim Kardashian. Later that day, West visited TMZ offices and admitted the album was "not finished yet", and would be traveling to Uganda to finish recording. Following a performance of Kids See Ghosts with Kid Cudi at Tyler, The Creator's Camp Flow Gnaw Carnival, West made a tweet on how he felt the album "didn't feel finished", and delayed it indefinitely.
The remainder of 2018 and half of 2019, the album was reworked into his official ninth studio album, Jesus Is King. Tracks such as "Chakras" and "The Storm", were reworked. The track "Hurricane' was temporarily shelved until it was reworked for the album Donda.
Despite the album's cancellation, nearly all of the tracks are available to be found online due to the numerous leaks.
Track list
[
]
NOTE: This tracklist is the most recent rendition, and is not completely accurate.
No.
Title
Length
1.
"Sky City" (featuring 070 Shake, Desiigner, Jeremih, Kid Cudi and Ty Dolla $ign)
 
2.
"Law of Attraction"

(featuring Ant Clemmons)

 
3.
"Spread Your Wings"  
 
4.
"Last Name"

(featuring Ant Clemmons)

 
5.
"Hurricane"

(featuring Ant Clemmons, Big Sean and Ty Dolla $ign)

 
6.
"The Storm" (featuring Kid Cudi, XXXTentacion, and Ty Dolla $ign)
 
7.
"Simulation Baptize"

(featuring A$AP Rocky and Pardison Fontaine)

 
8.
"Space X / Alien"

(featuring Ant Clemmons)

 
9.
"We Got Love"

(featuring Teyana Taylor)

 
10.
"Black Men Don't Cheat"

(featuing Chance The Rapper)